FOR IMMEDIATE RELEASE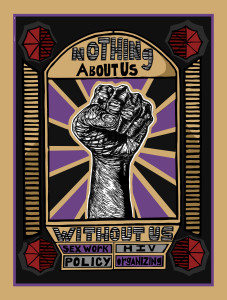 December 11, 2015
Tomorrow at the US Human Rights Network conference in Austin TX, Best Practices Policy Project and Desiree Alliance will be releasing the first ever report in the U.S. on sex workers, rights, and HIV created by sex workers themselves. The first report, Nothing About Us Without Us: Sex Work, Policy, Organizing, Rights, will focus on transgender sex workers.
"Sex workers are part of the solution in addressing HIV, and the U.S. is out of step with global acceptance of the need to bring a human rights focus to the issues of sex work and HIV, while moving away from criminalization," said Sharmus Outlaw, co-author of the report. "Transgender sex workers are now suffering the effects of the silence about what works to prevent and treat HIV."
The report finds that the policing of transgender communities is justified in the name of anti-prostitution efforts; and that this policing is directly at odds with scientifically-based HIV prevention and outreach efforts. "All across the U.S., transgender women–especially those of color–are harassed and arrested by police officers as they go about their daily life," said Monica Jones, a transgender rights organizer from Phoenix, Arizona and advisor to the report. "This policing impacts transgender outreach workers doing essential activities in HIV prevention such as delivering condoms and information to the community. We need to stop the arrest of transgender outreach workers, end the practice of using condoms as evidence, stop policing of medications and end the policing of trans people's lives so that they can walk down the street and reach health care centers when they need to access HIV related care."
The report finds transgender people with experience in sex work and the sex trade are much more likely to be living with HIV than transgender people who have never been sex workers, or the general population of the United States. In the District of Columbia, for example, 73% of trans sex workers self report living with HIV. But the National HIV/AIDS Strategy, the highest level of policy in the U.S., has been almost entirely silent about sex work and sex work was entirely omitted from the National HIV/AIDS Federal Action Plan released in late 2015.
"As sex workers develop our own research around HIV/AIDS policies, we are connecting with others to rethink and strategize about structural barriers best practices in HIV prevention," said Cris Sardina of Desiree Alliance. "It is not acceptable to ignore how violence, stigma, and criminalization affect trans women who engage in sex work. Nor can we ignore how policing sex work affects all trans women who are often profiled and arrested as sex workers."
The report will be released at 3 pm CST December 12 and will be available at http://www.bestpracticespolicy.org/nothing-about-us-without-us/.  The release event will be live streamed on Periscope by @swoplosangeles and social media will use the following #silenceequalsdeath and #advancingrights2015. More information can be found at the Release Event page: https://www.facebook.com/events/1660187327592533/permalink/1660187340925865/
PRESS CONTACTS:
Darby Hickey 202-250-4869 and darbyhickey @ gmail.com
Monica Jones 602-575-9332
Cristine Sardina director @ desireealliance.org