Each year we take a moment to reflect on our actions and to consider how movements for rights in the United States are developing. Here is 2013 in review.
New beginnings and some goodbyes: Long-term Best Practices Policy Project advisor, Melissa Broudo (who is also an attorney at the Sex Workers Project in NYC), her family and everyone at BPPP welcomed the birth of her son Shai in December 2013.
This year BPPP mourned the passing of our friend Gabriela Leite, the founder of sex worker rights organizing in Brazil, who died after a long illness. Our community also lost an important leader in late December when Andrew Hunter, the president of the NSWP (a global organization defending the rights of sex workers), died unexpectedly. On December 17, the International Day to End Violence Against Sex Workers, we remembered the loss of so many other community members, including Petit Jasmine, Dora Ozer, Tracy Connolly, and Candace.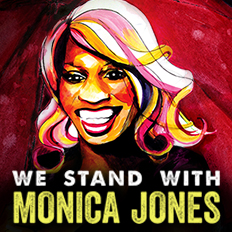 Free Monica Jones Campaign: Many across the nation were made acutely aware of the impact of policing of anti-prostitution statutes on transgender women when Monica Jones (a transgender rights activist and student of social work) was arrested in May 2013 after protesting Project ROSE (a collaboration between Phoenix police and Arizona State University School of Social work that has lead to numerous arrests in the city of Phoenix). BPPP has provided ongoing support to Phoenix organizers, standing in solidarity with them, linking them to resources available to defend human rights defenders like Monica Jones, connecting to social workers concerned about the arrest and the ethics of Project ROSE, and providing information and commentary. A number of our actions during 2013 are linked to this campaign which is ongoing into 2014.
Online presence, commentary and publications: In the February 2013, the Best Practices Policy Project launched our new website design using WordPress with the plan of making the site a frequently updated and credible source of information about the rights of sex workers, people in the sex trade and related communities in the United States. The new site, produced by PrintRevolver designs, allowed BPPP to integrate our online presence with other social media platforms and invite guest writers to comment on pressing issues in 2013.
Throughout 2013 members of the Best Practices Policy Project were proactive in discussing key health and rights issues in the United States and beyond. In May 2013, BPPP Policy Analyst Darby Hickey wrote  a commentary with Rebecca Schleiffer of Human Rights Watch that was published on CNN's website about what constitutes best practice in terms of working with sex worker communities to prevent and treat HIV/AIDS. Darby and Rebecca suggested that the US government partner effectively with organizations working for the health and rights of sex workers and "adopt evidence-based approaches and partner with sex workers to ensure our common goals: an end to HIV, and human rights for all." In May 2013, BPPP coordinator Penelope Saunders was interviewed by Al Jazeera America for her perspectives on what would constitute best practice for sex workers and people in the sex trade in Arizona, and the impact of policing on these communities. Best Practices Policy Project advisor Stephanie Wahab and Meg Panichelli published a succinct analysis of the ethical considerations associated with diversion programs, such as Project ROSE in Arizona, that arrest people in the sex trade in order to force them to accept services. Their commentary which appeared in a 2013 edition of AFFILIA, a peer reviewed social work journal addressing the concerns of social workers and their clients from a feminist point of view, challenged the "assumption that arresting (or participating in the arrest of) people 'for their own good' constitutes good or ethical social work practice." At year's end Darby Hickey provided timely and incisive commentary on the decision of the Canadian Supreme Court in the Bedford case that, in an unanimous ruling, struck the entirety of Canada's prostitution laws in December of 2013.
Conference: BPPP partnered with the Desiree Alliance to support the 2013 conference The Audacity of Health: Sex Work, Health and Politics in July in Las Vegas. During the conference we convened a training on UN Human Rights mechanisms including presenters from SWOP-NYC, CUNY Law School and BPPP. BPPP representatives also traveled to Atlanta in December to attend the US Human Rights Network conference.
Fundraising: BPPP helped make organizations and individuals aware of the ways they can support rights based organizing through presentations at funders convenings and direct action. For example, in the last quarter of 2013 BPPP developed a successful online direct donation campaign to support Phoenix activists challenging arrests justified in the name of anti-trafficking and "helping" and in December 2013 Darby Hickey presented at the "Funders Concerned about AIDS" convening.
Reports: BPPP worked with the Desiree Alliance and SWOP-NYC/SWANK to provide a detailed report in early March 2013 to the US Department of State for inclusion in the annual Trafficking in Persons Report (the TIP Report). The annual TIP Report is intended to illustrate the degree to which the United States and foreign governments comply with the "minimum standards for the elimination of trafficking in persons" that are prescribed by the Trafficking Victims Protection Act of 2000.
In December 2013 the Best Practices Policy Project worked with SWOP Phoenix to send a shadow report to the United Nations Human Rights Committee for consideration during the review of how the United States has fared in meeting its obligations to the International Covenant on Civil and Political Rights (the "ICCPR"). The ICCPR is a key human rights treaty that protects amongst other things equality before the law, the rights of minorities, gender equality, freedom of speech, freedom from torture, ill-treatment, and arbitrary detention, and the right to a fair trial. The BPPP and SWOP Phoenix shadow report describes civil rights violations in Phoenix, Arizona based on information collected by sex workers and allies who are actively documenting violations of sex workers' rights.
Our Intern: In 2013 CUNY Law School student, Kathleen "Kat" Thomas, joined BPPP as an intern. Kat developed a timeline of forthcoming human rights reporting deadlines so that BPPP could encourage grassroots organizations to engage with the UN system to advocate for their rights. We presented these materials during a workshop on Human Rights at the Desiree Alliance conference in Las Vegas in July.  As part of her internship Kat traveled to Washington DC in April 2013 to observe at the Supreme Court during USAID v OSI (a legal challenge that freed some US-based organizations from the Anti-Prostitution Loyalty Oath AKA "Anti-Prostitution Pledge" restriction on global HIV/AIDS funding). Kat later produced with Lauren Parnes a widely cited and distributed first hand account and analysis of the proceedings.