Each year we take a moment to reflect on our actions and to consider how movements for rights in the United States are developing. Here is 2015 in review.
New beginnings and some goodbyes: In January 2015 we were ecstatic to learn that we had received a grant in partnership with the Desiree Alliance to work on HIV policy nationwide from the Elton John AIDS Foundation. We welcomed funding from the Red Umbrella Fund and Resist Foundation. We also embraced the arrival of a tiny new activist, baby Rafael born to Melissa Broudo in September, 2015.
With all joy comes sadness however, and we were shocked by the entirely unexpected and sudden loss of leading advocate Shannon Williams to brain cancer in January 2015. She was a mother of young children and guiding light to so many.
Stand with Monica Jones Campaign: Many across the nation were made acutely aware of the impact of policing of anti-prostitution statutes on transgender women when Monica Jones (a transgender rights activist and student of social work) was arrested in May 2013 after protesting Project ROSE (a collaboration between Phoenix police and Arizona State University School of Social work that has lead to numerous arrests in the city of Phoenix). BPPP has provided ongoing support to Monica and Phoenix advocates. In 2015 after two years of intense legal strategy the case against Monica Jones was reversed. Even though she was disappointed at some elements of this process, she was immediately able to continue her advocacy at the United Nations with support of both BPPP and the US Human Rights Network.
New Jersey Red Umbrella Alliance: NJ advocacy grew exponentially in 2015. BPPP provided some financial support and were a participant member of the Alliance.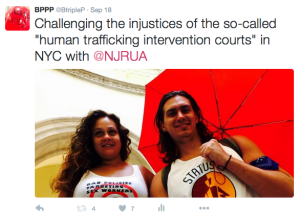 Fundraising: BPPP helped make organizations and individuals aware of the ways they can support rights based organizing through presentations at funders convenings and direct action. In November the BPPP coordinator was invited to address the Funders Network annual meeting in California. During the year BPPP developed and supported online fundraisers and other actions to support advocates needing emergency housing and for a public education event planned for Phoenix in 2016 organized by Monica Jones. We raise awareness by occupying the hashtag #fundingFriday every week to raise awareness of the lack of resources for projects by and for sex workers.
Reports: This year we initiated the NOTHING ABOUT US WITHOUT US Project in partnership with Desiree Alliance to research the impact of HIV policy on communities of sex workers. This report will be released December 12 of this year during the US Human Rights Network Conference in Texas.

Other publications: BPPP and Desiree Alliance united to write a piece that was published in Research for Sex Work. Coordinator Penelope Saunders was quoted in an article in the Washington Post.
United Nations Advocacy: BPPP pressured nationally and globally for recognition that US policy violates the human rights of sex workers during events such as the Universal Periodic Review of the United States by the Human Rights Council. We attended meeting with permanent missions in NY and DC, prepped NJRUA advocate Janet Duran to present to the State Department in February 2015 and sent four representatives to two UN sessions in Geneva. We will be building capacity globally regarding the Universal Periodic Review by providing a training in partnership with Brazilian advocates in 2016 during the Association of Women in Development meetings in Brazil. Our other UN work includes coordinating–with numerous other national and international agencies–a highly successful presence at the Commission on the Status of Women at the UN in NY. This included a panel session featuring speakers from the Ukraine, Africa and the United States (Monica Jones and Penelope Saunders).
Conferences: