Our organizations are members of the US Human Rights Network (USHRN) and so have been offered the opportunity to include some of our key concerns in the network's report. BPPP, NJRUA, BSWC, Desiree Alliance and the Outlaw Project created the summary to send to the USHRN this last week.
Throughout the U.S., criminalization and stigmatization of sex workers, and those profiled as such, prevents them from exercising their human rights. Violations include: violence perpetrated by law enforcement and ICE; cruel, inhuman or degrading treatment during incarceration; denial of due process and protection in the justice system; denial of rights to housing, healthcare, reproductive rights, education, income, employment and economic justice. People of color, transgender people, migrants, street based sex workers, homeless, youth, and people living with HIV/AIDS bear a high burden of these violations. U.S. policies undermine the health and rights of sex workers internationally by requiring that organizations seeking funding adopt a policy against sex work. Additionally. in 2018 the U.S. passed rights violating restrictions via the Stop Enabling Sex Traffickers Act (SESTA) and Allow States and Victims to Fight Online Sex Trafficking Act (FOSTA). This legislation limits the sharing of vital safety information for sex workers online and causes economic harm and social marginalization. The current U.S. administration is violating the rights of immigrants. The intersection of this with anti-prostitution policies has resulted in the death of migrant sex workers at the hands of state agents, the incarceration of migrant sex workers in rights violating detention centers, and deportation. The U.S. government has engaged in a sustained campaign to roll back the rights of transgender people. Transgender people are assumed to be sex workers by the authorities, leading to incarceration and immigration detention, where they are harmed, highly vulnerable to sexual assaults, and killed.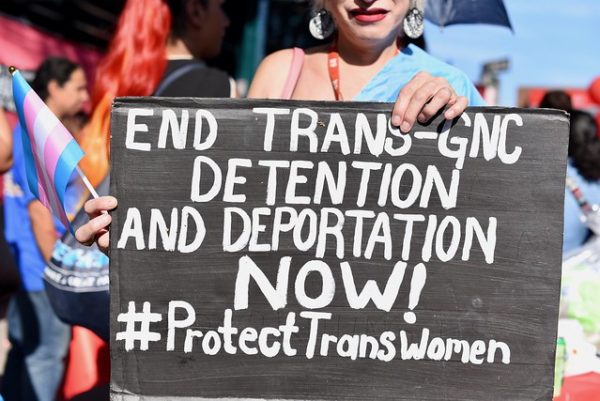 Previous UN Body Recommendations: In prior UPR process, the U.S. accepted Recommendation 
86, requiring it to "[u]ndertake awareness‐raising campaigns
 for combating stereotypes and violence against [LGBT people] 
and ensure access to public services, paying attention to the
 special vulnerability of sex workers to violence and human rights abuses." The U.S has pursued policies that directly contradict this commitment, putting sex workers at heightened risk of human rights abuses. In 2014, the UN Human Rights Committee challenged the U.S. Justice Department's claim that arresting people for sex work is a humane or effective way to fight trafficking, and called on the U.S. to align its anti-trafficking initiatives with human rights norms, which reject criminalizing sex workers.

Key Recommendations for inclusion via USHRN: The United States of America should:
End the criminalization of sex workers lives by full decriminalization (anti-criminalization) of sex work and eliminate policies, such as "zero tolerance" of prostitution, "prostitution free zones," and loitering measures, that undermine protection of and respect for human rights of sex workers. Sex workers should also be able to expunge any criminal records relating to these laws.
Vigorously investigate and put an end to policing practices targeting transgender people.
Repeal SESTA/FOSTA and eliminate other federal policies that conflate sex work and human trafficking and prevent sex workers from accessing services such as healthcare, HIV services and support.
Address the atrocities of current immigration and migration border policies in the United States. Migrant and immigrant sex workers are especially affected by these laws as they are under no protections of federal guidelines.
Remove "participation in prostitution" as grounds for removal from the country, from the category of "crimes of moral turpitude" and as grounds for denying visas/legal status to individuals seeking to visit, reside in, or become citizens of the United States.