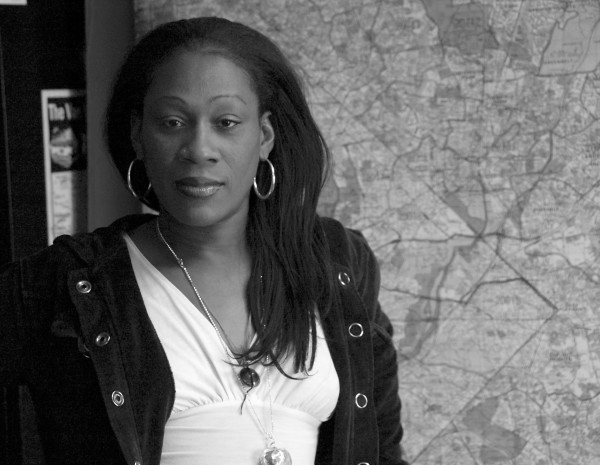 Sharmus Outlaw our colleague and friend has passed away this morning remaining strong and powerful in her beliefs through her last days.
At the time of her death Sharmus was a national policy advocate at the Best Practices Policy Project, with her work focusing on the rights of transgender communities and health care access. Sharmus was also the US representative for the Programme Advisory Committee of the Red Umbrella Fund, a global fund specifically for sex worker-led organizations and was part of numerous other networks. Sharmus was an advocate for health and rights for more than 25 years with experience working in the District of Columbia, Maryland and her beloved North Carolina, where she was born. An internationally known activist, she spoke out against injustice in all settings, from interactions with police in the streets to meetings with the U.S. government to high-level U.N. gatherings.
Sharmus has left us much too soon but she has achieved so much. In 2001 she was a founding member of Different Avenues, a grassroots organization working with people in street and other informal economies in the District of Columbia. Sharmus designed the outreach programs at Different Avenues drawing on her years of experience at other organizations such as HIPS where she had been a member of the DIVA program and an outreach worker. Ensuring that young people, especially transgender youth, could access services without discrimination at times that worked for them was an essential part of Sharmus' vision. In addition to her work at Different Avenues and HIPS, Sharmus volunteered and worked at numerous organizations in the District of Columbia including the Supporting and Mentoring Youth Advocates and Leaders (SMYAL), Casa Ruby, and Us Helping Us. She never stopped doing outreach and would carry condoms and literature with her on her travels home to see her family in North Carolina to make sure that she could pass out materials to folks she met. She was passionately concerned that rural communities all across the United States did not have access to information about gender, sexuality, rights and HIV/AIDS.
Sharmus had a great ability to unite communities locally, nationally, regionally and globally, and through these alliances to advocate for change. She was an integral part of the community-based research team that collected data on police interactions with people profiled as sex workers in the District of Columbia, which was published as the seminal report "Move Along: Policing Sex Work in Washington, D.C." in 2008. Drawing on that experience and her extensive knowledge of the ways in which laws and practices negatively affected members of marginalized communities, Sharmus was co-author of another first of its kind report, published in 2015, "Nothing About Us, Without Us: HIV/AIDS-Related Community and Policy Organizing by U.S. Sex Workers," which had an explicit focus on transgender people living with HIV who engage in sex work. After helping to lead a disruption of a panel of U.S. lawmakers speaking about HIV policy, to highlight the U.S. government's harmful stance against sex workers' rights, at the 2012 International AIDS Conference, Sharmus told reporters, "Before I'm transgender, before I'm a sex worker, before I am anything, I'm human. I have rights just like anyone else."
An iconic grassroots human rights defender, Sharmus Outlaw will be remembered by friends, colleagues, and fans in Washington, D.C., and around the world. Her work continues through all of us who advocate for the humanity of transgender people, sex workers, people living with HIV and youth, especially trans youth. An era dedicated to implementing the vision of Sharmus Outlaw is just beginning, in her name.
Email bestpracticespolicyproject@gmail.com in order to be connected to ongoing work planned by Sharmus and donate to Sharmus' funeral costs.