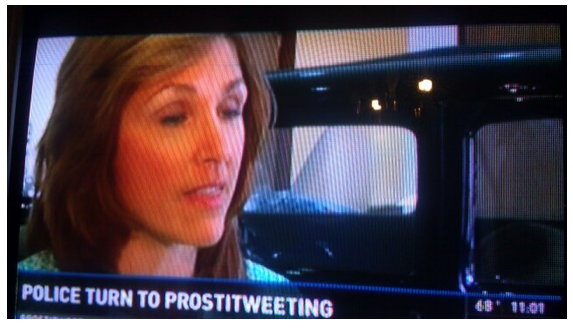 On May 1st, the Prince George's Police Department (in Maryland, bordering D.C.) announced plans to "live tweet" prostitution stings in the coming week. The social media reaction from sex worker twitter was rapid and powerful, denouncing the department's idea and taking over their proposed hashtag #PGPDVice. The announcement and the backlash resulted in a lot of media coverage, locally and nationally–almost all of it including a critical perspective advocating for sex worker rights and against criminalization.
In a cynical move to silence critics, the police department the next day said they had all along planned to target only clients, not sex workers themselves. This came despite the initial announcement's accompaniment by a photo of a male cop leading away a woman in handcuffs, which was subsequently removed from the police department's website.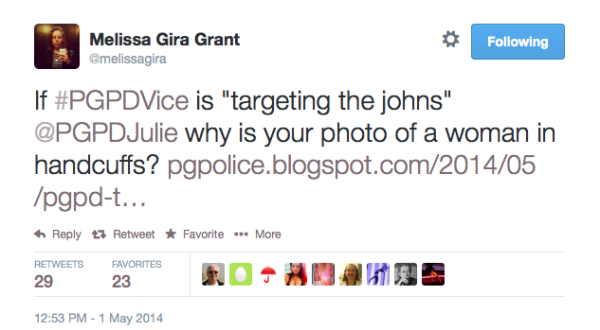 Sex workers and allies kept up the criticism on twitter through the weekend and into the week, when the police department released a statement that they had conducted the stings but not live tweeted. The decision to not live tweet was based in concerns about officer safety, the statement said:
Earlier today, the Prince George's County Police Department's Vice Intelligence Unit conducted a planned sting targeting johns. The event took place over several hours in the southern part of the county.  On average, the unit arrests five to 10 johns during similar operations.  Today, no johns were arrested.

"I've participated in hundreds of stings, and I've never seen what happened today. By advertising this days ago, we wanted to put johns on notice to not come to Prince George's County. That message was heard loud and clear. We just put a dent in the human trafficking business without making one arrest," said Sergeant Dave Coleman, the Officer in Charge of the Vice Intelligence Unit.
The department's effort to spin the conflict was dismissed by most resulting media coverage. As with the recent #myNYPD attempted campaign in NYC, #PGPDVice is a reminder of how social media can be harnessed to highlight social problems.
Local groups like HIPS and DC Trans Coalition contributed to the effort, along with unexpected support from the National Center for Trans Equality and Freedom Network. Even Polaris Project condemned the move.
Twitter conversations and media coverage included not only a condemnation of the live tweet plans, but also of the stings themselves, as well as the regular practice of police publishing mug shots of clients and sex workers online or in other media as a "shaming" tactic. Here's hoping the whole debacle helped chip away at misconceptions about sex work and policy.